We all want to land the job of our dreams. But, to get a better job, we have to prove we are worthy of that job during our interview. To do so, what you say, how you say it and your overall image are very important.
Let's start with image. You have about sixty seconds to make an initial impression on your interviewer. Once that impression is made, it is very difficult to change it. Below are tips and secrets you can use to make sure you come across as professional and confident during your interview.
Dressing for an interview: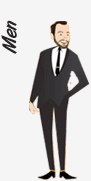 Stick to wearing dark coloured slacks or pants (never jeans), with collared shirts. Avoid wearing collared shirts that are too thin or have designs. Stick to wearing one-colour shirts that are plain or come with light stripes. Also, avoid bright colour shirts like red and purple.
What is very important is wearing an undershirt underneath your collared shirt so when you sweat it does not seep through to your shirt. Make sure your undershirt is short sleeved and not sleeveless. You should wear a tie to an interview and take a suit-jacket with you. You can take off the jacket at the interview but it is always good to have it with you.

As another pointer, if you wear a watch – make sure it does not dangle off your wrist like a bracelet.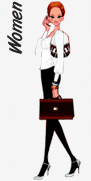 if wearing western then wear slack-pants or skirts that fall below the knee. With that wear collared shirts or blouses. Try avoiding bright colours like hot pink and orange. Also, avoid shirts that have too much of a pattern as it can be distracting. It's best to wear dark pants or a dark skirt and a nice, ironed, light coloured collared shirt.
If wearing Indian, you can wear a salwar suit or if you are comfortable, a sari. Make sure the material is thick (not synthetic) and that the colors and pattern are not bright or distracting.
Either way, make sure you don't wear too much jewelry. You can wear one necklace, small earnings, and one or two rings, but leave it at that. Also, don't wear bangles or anything that dangles.
When you meet the interviewer:
Walk forward confidently with your back straight, your shoulders back and your head up.
Look the interviewer in the eyes when you introduce yourself and shake her hand.
Don't forget to smile!
Don't tell the interviewer how much you need the job.
At the end of the interview:
Always thank the interviewer for her time, no matter what the outcome of the interview.
Tell the interviewer you will look forward to hearing from her if they don't tell you immediately whether or not you got the job.
Be courteous and polite at all times, even if you think you won't get the job. You are not the best judge of how the interview went. You may think it was terrible and the interviewer thought you were great. Don't ruin the impression by being rude.
Even if you don't get the job you are interviewing for, jobs come open in companies all the time. They may remember what a great person you are and call you later on IF you leave them with a good impression.
Use every interview as a learning experience.
Image is extremely important when applying for a job. The above tips should help you look, feel and come across professionally.
In the next article, I will cover common questions asked during interviews.
Author Nasha Fitter

Nasha Fitter is a teacher, entrepreneur and expert on communications and soft-skills training. She is the founder of Fitter Solutions, a Mumbai-based training firm that has groomed thousands of young Indians for jobs in companies like Wipro, ICICI Bank and Hindustan Lever. An MBA graduate of the Harvard Business School, Nasha has also worked as an investment banker on Wall Street and for an NGO that seeks to narrow the digital divide in India. She is currently working at Microsoft Corporation in Redmond, Washington, where she focuses on efforts to improve education in emerging markets like India.